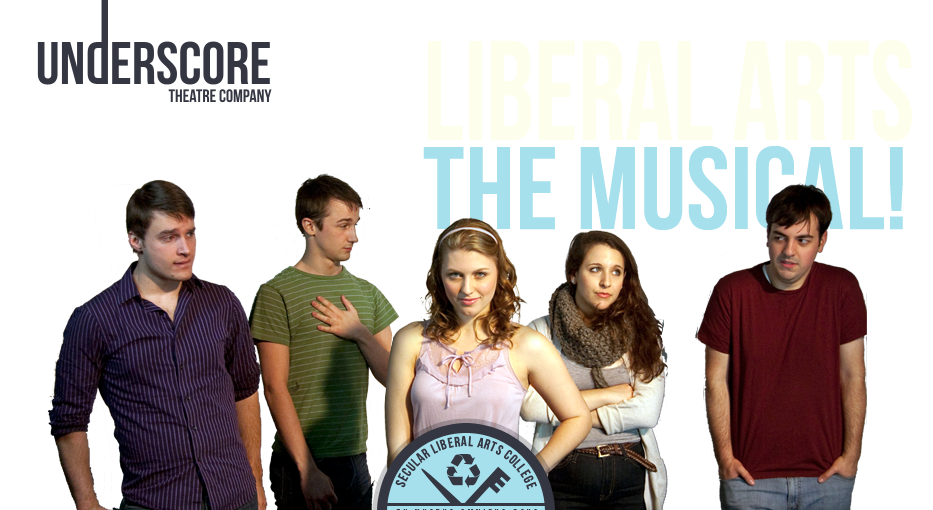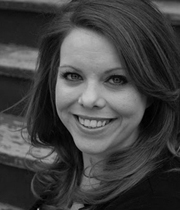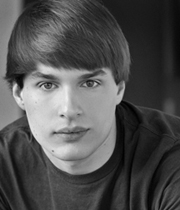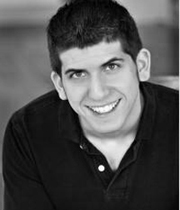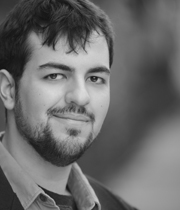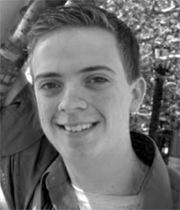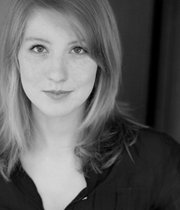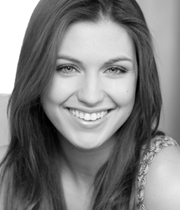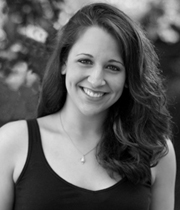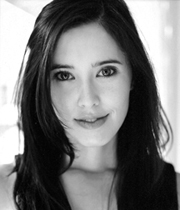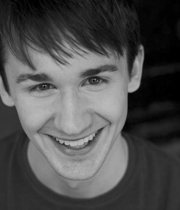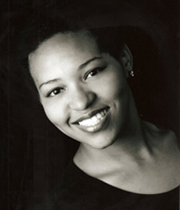 Kristi Barnhart as Ms.Milford.
Kristi is thrilled to play the part of Mrs. Milford in Liberal Arts: The Musical! This is her first role in a musical since she moved to Chicago with her husband Travis in 2010. When Kristi isn't playing Mrs. Milford she works at ComedySportz Theatre and is also a member of Hobo Junction Theatre. "I am so lucky to be part of such a wonderful and talented cast and I have loved every second spent working on LATM. This show is amazing and I am so proud to be in it!" Even though Kristi isn't a mother herself, she has really enjoyed finding her inner Milf for this role.


Sam Button-Harrison as Brandon.
Sam was last seen in Underscore Theatre Company's production of The Rocky Horror Show (Eddie/Dr. Scott) and the New Rock Theater production The First (and Last) Musical on Mars (James). As a BFA in Musical Theatre graduate from Drake University, he performed in such works as The Wild Party (Burrs), Urinetown (Bobby Strong), Safe (Ryan), and Macbeth (Macduff). He also performed frequently at the Des Moines Playhouse in such shows as Grease (Danny Zuko), Cats (Munkustrap), and High School Musical (Troy). Sam also has credits in several Des Moines area TV and radio commercials and has done some work in film. He would like to thank the cast and crew for letting him relive his college years again and hopes everyone enjoys our hard work! www.sam.buttonharrison.com


Jonas Davidow as Chorus (u/s Neil).
Jonas Davidow is proud to be apart of his second production with Underscore Theatre Company. He played Riff Raff in his most recent production of The Rocky Horror Show which you may/should have seen also directed and produced by the Underscore Theatre Company. You may have seen him in other shows such as The First and Last Musical On Mars (Strolling Minstrel) or Little Women (Mr. Brooks) as well as Working the Musical(Mason Singer) and Cabaret(Bobby). Jonas would like to thank everyone involved with the making of this production. It has been a blast. Also...if anyone tell you to call me "dude poon" don't listen to them. That's just gross.


Harrison Gibbons as Kevin.
Harrison Gibbons is thrilled to make his Chicago acting debut with Underscore Theatre Company. A recent East Coast transplant, Harrison's latest performances include roles in Babes in Arms, A Christmas Carol, and Around the World in 80 Days with the Berkshire Theatre Group (MA) and As You Like It at the Secret Theatre in New York. He was also recently seen onstage with the Richmond, VA chapter of ComedySportz. Harrison received his own liberal arts education at the University of Virginia, of which he is a proud, if slightly annoying alumnus (WAHOOWA). Harrison also serves on the staff of Underscore Theatre Company. Infinite thanks to God, his beloved family, his wonderful friends, and Underscore for quickly making Chicago feel like home.


Chad Michael Innis as Chorus (u/s Kevin).
Fresh from Charlotte, North Carolina, Chad Michael is elated to make his Chicago debut in Liberal Arts: The Musical! Chad Michael graduated with a BFA in Musical Theatre from Catawba College, a tiny institution strikingly similar to the show's Secular Liberal Arts College. Huge thanks go out to all his friends who've made his move to the Windy City easier, as well as insurmountable gratitude and love to his biggest fans, his family. www.chadmichaelinnis.com


Lila C. Newman as Moxie (u/s Sam).
Lila Newman is thrilled to be working with Underscore Theater again! Lila is an actor, improvisor, singer/musician, dancer and writer. A U. Chicago alum hailing from New York City, she can be seen regularly at Playground Theater with the improv team Lumberjack Tsunami and sketch group The Business. Recent stage work includes: Spectacle Lunatique 2012 (Redmoon), Compass Players Historical Re-enactment (Pocket Guide to Hell), Richard O'Brien's The Rocky Horror Picture Show (Underscore), We Were Promised Magic (the Second City: Director's Showcase), Uncle Sam I Am (Williamstown Theater Festival) and Picasso at the Lapin Agile (University Theater). Past local and international credits include: A Prairie Home Companion, the Second City, Redmoon, iO, Williamstown Theater Festival, the Edinburgh Fringe, Sketchfest and the Around the Coyote Festival. She has 8 house-plants, 5 ukuleles and 1 banjo.


Amy K. Rapp as Natalie.
Amy is thrilled to be joining such a talented cast for "Liberal Arts." Hailing from the wonderful suburb of Schaumburg, Amy found her true calling at age 8 as "Orphan #46" in "Annie." Since then she has worked with many theatre companies including New Leaf Theatre, Metropolis Performing Arts Centre, Profiles Theatre, Victory Gardens Biograph, and three years in The American Girl Show. Film work includes commercials for Baskin Robbins, Tampax, MasterLock, the US Military, as well as several short films and studio stand-in experience. Amy received her Liberal Arts education (but not really because it's a conservatory) from DePaul's Theatre School last spring. BFA Theatre Management, minors: French and Business Management. Thanks, love, and all that, to her family, Gray Talent Group, and Peggy. www.amyrapp.com


Andi Sharavsky as Sam.
Andi is thrilled to be putting her liberal arts degree to such fantastic use. She holds a BA in Drama from Vassar College, where she wrote and performed with No Offense Sketch Comedy and used the term "heteronormative" in casual conversation. A proud graduate of Second City's Comedy Studies Program, her writing has appeared in The Chicago Tribune, McSweeney's, and on Splitsider.com. She is half of the female sketch duo Hey Pearl, who recently finished a run at Donny's Skybox Theatre and performed at the 2012 Chicago Sketchfest. Love to Mama and Papa Sharavs, Maxine, Cho, Shmems, and Maria Mitchell.


Rochelle Therrien as Professor Thesaura (u/s Natalie).
Rochelle is delighted to be making her Chicago acting debut with Underscore Theatre Company! Rochelle is originally from Los Angeles where she recently completed a pilot and short film. She earned her Liberal Arts Degree from Boston University with a BFA in Acting and studied at the London Academy of Music and Dramatic Art. Theatre credits include, Hedda Gabler, The Good Person of Szechwan, The Way of the World, The Fantasticks, and Merrily We Roll Along. Rochelle is extremely grateful to her amazing friends and incredible family for their unconditional love and support and for such a warm welcome to Chicago!


Wesley Dean Tucker as Neil.
Wesley Dean Tucker (Neil) - grew up in central Illinois catering to chickens, sheep, and the occasional Civil War era enthusiast. Though a distance from the Ozarks, he began clogging at age 5, started acting at age 9, and has never looked back. North Central College in Naperville fed his musical theatre addiction, and he has "Liberal Arts: the Musical" to thank for his first official comedic leading role. "Finally out of the chorus line and a sweat-soaked 'Cats' costume..."


Sierra White as President Dean (u/s Moxie).
Sierra White is a recent graduate of Drake University with a BFA in Musical Theatre. Previous roles include, Lady Day at Emerson's Bar & Grill (Billie Holiday), bare: A Pop Opera (Sr. Chantelle), All Shook Up (Sylvia), Fefu and Her Friends (Fefu), and Urinetown (Little Sally). This is her first production with Underscore Theatre Company and she couldn't be more excited. She would like to thank all of the "powers that be" for this amazing opportunity and family and friends for their support.



Click here to purchase your tickets through Brown Paper Tickets! Admission starts at under $20, and group/college rates are available. For more info on showtimes, purchasing tickets and bringing your friends, click here to go to our "admissions" page!