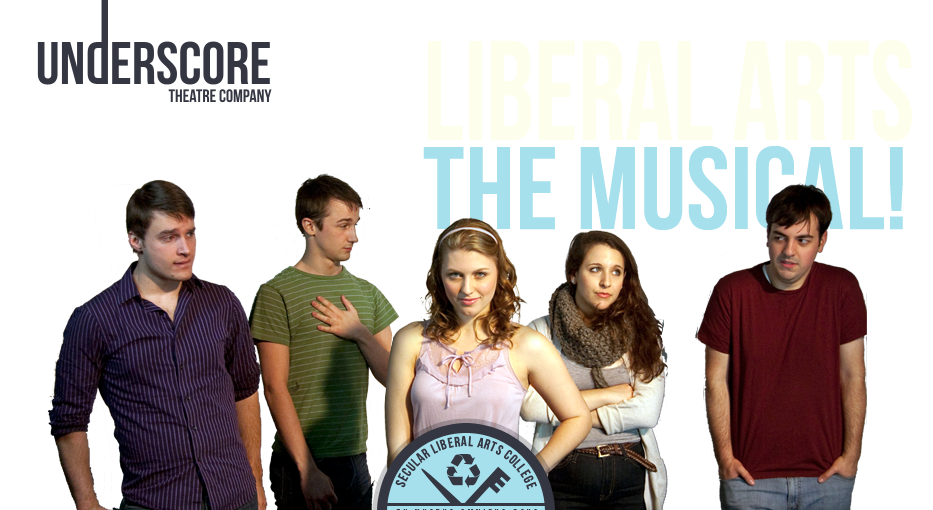 Underscore Theatre Company is a team of producing artists dedicated to creating out-of-the-park original and repurposed works of theatre, music, and musical theatre. Having worked together since 2009, the company has collaborated on two world-premier musicals, touching on subjects ranging from the liberal arts to Hurricane Katrina and from Puccini to Cappuccinos. We think that musicals offer something more than other performing arts, with music, words and actor interpretation coming together to cut to the quick, underscore the action, and keep you singing all the way home. Over the next few years, we want to keep making new, genre-bending musicals, and to keep pushing the limits of how singing, speaking, and moving can work together to create something awesome.
Prior to "Liberal Arts," the company produced a fully interactive run of "The Rocky Horror Show" at The Underground Lounge in October 2011 and collaboratively wrote and produced "Grind: The (coffee shop, comic book) Musical!" for the Midwest Fringe Tour, performing to sold-out audiences in Kansas City, Minneapolis, Indianapolis, and at Chicago's own Dream Theatre. "Rocky" delighted costumed and prop-armed audiences, and "Grind" earned five stars in the Kansas City Stage, rave reviews at the Minnesota Fringe, and attention and recommendations across the board, from publications like Metromix, the Pioneer Press, the City Pages, the Chicago RedEye, and TimeOut Chicago. The company has been called "ridiculously talented" by KC Stage and an "energetic, talented, brave, strong collaborative group" by IndyFringe. Of LA:tM, Liberal Arts professor Pierre Hecker says, "I was completely blown away...it was sick."


Alex Higgin-Houser - Director, Co-Author
A director and playwright, native to Minneapolis, Alex is a co-founder and the current artistic director of Underscore Theatre Company, with whom he has also directed The Rocky Horror Show (2011), Grind: the Coffee Shop, Comic Book Musical (2010) and the original workshop productions of Liberal Arts: the Musical! (Spring and Fall, 2009). Currently, Alex is collaborating with the Underscore team to create "Pr0ne: a Hardcore, Amateur Musical," an original musical about internet pornography, which will be performed in a staged reading this July.
David Kornfeld - Music Director, Composer
David received his BA in music from Carleton College, where he studied composition with Alex Freeman and Mary Ellen Childs, piano with Nicola Melville and Laura Caviani, and conducting with Lawrence Burnett. He has performed as a pianist and keyboardist with numerous musical ensembles, including the Carleton Jazz Ensemble, Lia Bendix Jazz Trio, Ova Yonder Brass Band, and Groove Factory. Kornfeld co-founded Underscore Theatre Company in Chicago, serves on its board as Producing Artistic Director, and has co-written and directed two musicals with the company. He has been commissioned twice to compose incidental music for Carleton Players' Shakespeare productions, and is a regular audition pianist with American Theatre Company.
Brendan Siegfried - Associate Director, Co-Author
Brendan is an actor from Nashville, Tennessee and graduated from Carleton College in 2009. He has worked previously in Chicago with the James Downing Theater and DreamLogic Theatre Works. As a producer and board member of Underscore, he has terribly enjoyed working with the cast and crew of this singy, dancy, stage show and looks forward to many more singy dancy stage shows to come!
Laura Stratford - Producer, Co-Author
Laura is thrilled to see the world-premiere of the company's first collaboration, "Liberal Arts: The Musical!". A founding member of Underscore Theatre Company, she first co-wrote, produced, and performed in Chicago with Underscore's "Grind: The (coffee shop, comic book) Musical!" which toured to Minneapolis, Kansas City, Indianapolis and Chicago to critical acclaim as part of the Midwest Fringe Circuit. Most recently, she could be seen getting audiences riled up for Underscore's Halloween run of "The Rocky Horror Show." She is constantly overwhelmed by the talent of the people with whom she's surrounded herself.

Click here to purchase your tickets through Brown Paper Tickets! Admission starts at under $20, and group/college rates are available. For more info on showtimes, purchasing tickets and bringing your friends, click here to go to our "admissions" page!